I haven't had a lot of time lately to attend major national tractor events. In fact, the last national event that I attended was way back in the late 1990's in Ankeny, Iowa. I've been to quite a few local or regional shows however.

This year was different! Since the 2010 Red Power Roundup was being held within an hour drive from my house, I thought that it would be entirely rediculous not to attend the event. I met my brother Gary (who is an avid Cub Cadet collector and restorer) for breakfast and afterward, we headed west down the Indiana toll road.

Arriving at the event site, we could see for what appeared to be a couple miles of mostly red tractors and equipment. After walking though the front gate, we headed straight away towards the parts suppliers and booths displaying used parts for both Cub Cadets and the full sized tractors. My brother Gary, being a Cub Cadet collector, was naturally interested in what might be laying around in that area. Let me tell you, there were tons of parts down those rows!

Next we went to the building that was used for displaying Cub Cadets (most of which were restored) and began exploring. Seemed like there were hundreds of these good looking Cadets in and around the building. Four of these tractors can be seen in the photos below.
| | |
| --- | --- |
| Cub Cadet 100 Orchard Tractor | 1961 IH Cadet set up on all steel wheels and owned by Scott Urchel from Huntington, Indiana |
| A fine example of a red IH Cub Cadet | Cub Cadet Tractor set up for pulling |

After leaving the Cub Cadet displays, we came across an old International Harvester 10-20 Titan restoration. This tractor was beautifully restored as you can see from the two photos here on the right side of the page. The tractor is a 1921 model and is owned by Doug Seymour of LaPorte, Indiana. There were 7,729 of these Titans manufactured in the year 1921 and this is one of them that has survived. The development of the 10-20 Titan began in the fall of 1914 and production began in 1915. In case you didn't know, this model was the first model that IHC produced that sold over 10,000 units in a one year period of time. Gary and I were close friends of an older gentlman who passed away a few short years ago who was an avid antique tractor collector. His name was Charlie Ellsworth (featured elsewhere on this site). Charlie owned one of these old Titan tractors and I had the pleasure of driving it. Let me tell you, it was an experience to behold! These old tractors are getting vary scarce and just seeing one of them in this shape was extremely exiciting to say the least!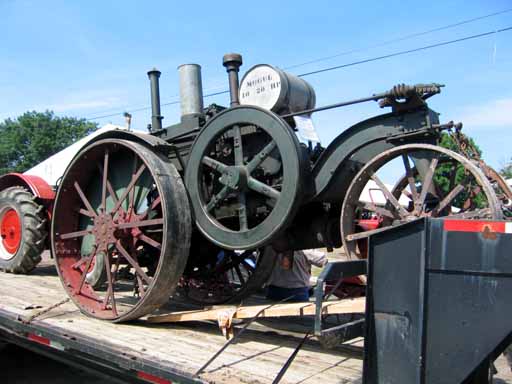 Another tractor produced by IHC in about this same time period was the 10-20 Mogul. The Mogul was only produced four years from late 1916 into 1919 when production was ceased (primarily because of the increasing popularity of the Titan 10-20). We just happened to see one of these old Moguls being loaded onto a trailer as we were browsing around the event grounds. You can see a picture of this tractor on the left. This particular tractor was built in 1917 and is now owned by the Marion Greer family of Coulterville, Illinois. The tractor's origin was in Tilden, Nebraska and was acquired by the Greers from the Emil Dittrich estate. Absolutely fantastic to get to see one of these!
Just around the corner of the building where the Titan was on display, we ran upon a Farmall F-12 Wide front tractor. The front axle was adjustable from the factory to allow farmers to accomodate various row witdths when working the fields. This particular tractor (photos shown here on the right) is owned by Gerald Heberue from St. Geneivieve, Missouri. Note the detail of the adjustable axle.
This Farmall F-12 tractor was manufactured in 1935 and served the early pre-World War II farmers quite well.
---

Another beautiful tractor that we saw was a 1934 McCormick-Deering WD-40 Diesel. This model was the first diesel powered four wheel tractor produced by McCormick-Deering and had a 4 cylinder diesel engine that originally was made for the TD-40 crawler tractor. This engine produced about the same amount of horsepower as the 6 cylinder kerosene-burning engine (although at a lower rpm of 1,100). The tractor seen in the four photos below is owned by Eric Best of Portage, Indiana. If you want to talk to Eric about this tractor, you can e-mail him at: bestportage@aol.com.

Left side view of Eric's beautiful
diesel powered WD-40 tractor.


Right side view of the engine compartment.


A view from the left rear of this
good-looking work horse.


A picture of Eric standing in
front of his 1934 WD-40.

---

Here is a photo (right) of a very good looking F-20 Hi-Clearance wide front tractor. There are not many of these tractors around that are in this good of shape that I've seen recently. I'm sure they can be found at the various shows around the country, but this one sure fits the bill! What do you think?




We also saw a couple of display trailers full of pedal tractors belonging to Mark & Lori Willis and Larry & Shirley Wiley. They are from Union City OH/IN. I was told that they have been collecting these little tractors for about 21 years. Check out the photos of these toy pedal tractors below.

| | | |
| --- | --- | --- |
| This photo shows mostly John Deere, Massey Harris and Massey Ferguson toy pedal tractors. | This picture shows Farmall, Case, MM and other IH toy pedal tractors. | Mostly Allis Chalmers pedal tractors are in this photo. |
Tractors weren't the only things being displayed at the show. There were an abundant supply of old International trucks being displayed as well. Check out a few of these in the photos on the right! Some pretty nice old trucks if you ask me. There were at least two or three dozen of these at the show.

There was also quite a bit of IH and /or McCormick farm implements on display at the show such as shown in the below photo.
---

Obviously there was a whole lot more to see at this event as you could well imagine. The pictures on this page should give you some kind of an imagination of what it was like, however. To learn more about this event, go to the International Harvestor Collectors Club, Chapter # 33 website for more info and if you ever get a chance to attend the National Red Power Roundup, you should make plans to go. Especially if you are a red tractor fan! We enjoyed the show tremendously.

Dave
dave@adeptr.com